Ayodhya: Beyond Adduced Evidence by Kishore Kunal (Author)
MORE INFORMATION
Author Kishore Kunal
ISBN 9788184306255
Language English
Publisher Prabhat Prakashan
Edition Ist
Publication Year 2018
Number of pages 800
Binding Style Hard Cover
DESCRIPTION
Ayodhya: Beyond Adduced Evidence is a sequel to the author's earlier book Ayodhya Revisited. It highlights how the Rama Janma Bhumi at Ayodhya is an essential and integral part of Hinduism. On the basis of unimpeachable evidence it establishes the exact location of the Rama Janma Bhumi. It proves beyond any shade of doubt that a Rama temple built in the 12th century existed on the disputed site and that was demolished by Fedai Khan, the Governor of Aurangzeb in 1660 A.D. 
Based on the law laid down in scriptures it demonstrates that the bhumi of the temple having a consecrated idol gets the status of a deity. From the in-depth analysis of scriptures and inscriptions  it  has  been concluded  that  a  temple converted into a mosque can be legitimately restored to its original character of a temple.
The question of the title of the disputed land has been discussed at length both in historical and legal perspectives and it has been found that the title vests in both the Rama Janma Bhumi and numerous deities who reside there forever. But it was unlawfully grabbed by the British authorities in 1858 and  that wrong remains unrectified till today. 
The historical fact that many Mughal monarchs, Awadh Nawabs and Muslim nobles liberally granted land at Ayodhya for the construction of temples and mutts to the Bairagi sadhus has been highlighted in the book. 
So far the title of the mosque is concerned, it is found that almost all evidences claimed in favour of the mosque are fake and fabricated. Moreover, whatever the title it had, that extinguished in 1858 after Lord Canning confiscated the disputed land. Thereafter, the Muslims had the permissive possession of a part of the mosque for offering nemaz. 
Besides, the gun of the claim of adverse possession is fired  against a wrong target as it has been directed against the Hindus; whereas the ownership of the land lies with the Government. 
The author has shown the striking similarities and stark contrasts in the situations of Somanatha and Ayodhya, and has deeply probed as to why Somanatha succeeded, whereas solution is still eluding Ayodhya. It has been proved that Rama's worship has continued for more than 2000 years and his saga is India's most pervasive and enduring  instrument  of acculturation. Besides, it has been shown in the book that Rama has been regarded as the embodiment of Dharma since Valmiki wrote the Ramayana. 
The book is indispensable for any student, scholar and lawyer interested in knowing the history of and the title to the disputed land at Ayodhya. 
______________________________________________________________________________________________________________________________
Contents
Preface —Pgs. xxi
Part – I
1. Why is Ayodhya so important? —Pgs. 1
2. Where is the Rama Janmabhumi located? —Pgs. 19
3. Did there exist a temple on the disputed land? —Pgs. 35
4. What happens after a temple is desecrated or an idol is defiled? —Pgs. 65
5. Can any temple be restored to its original character after desecration or defilement? —Pgs. 79
6. Is the Title vested in the Hindu Deity? —Pgs. 87
Part – II
7. How is Buchanan's Inscription so crucial for the history of the disputed shrine? —Pgs. 145
8. Will the Title tilt in favour of Baburi mosque? —Pgs. 165
9. Who demolished the temple on the Rama Janma Bhumi and built the mosque thereon? —Pgs. 221
10. Is Sir Jadunath Sarkar's list of the temples demolished by Aurangzeb complete? —Pgs. 247
11. Is there any similarity between the historical events at Somanatha and Ayodhya? —Pgs. 259
Part – III
12. Rama's worship has continued for more than 2000 years —Pgs. 273
13. Rama's Saga is India's most pervasive and enduring instrument of acculturation —Pgs. 297
14. Rama's references in Buddhist texts are, by and large, based on Valmiki's Ramayana —Pgs. 315
15. Rama is the embodiment of Dharma —Pgs. 325
List of Appendices —Pgs. 341
Appendices —Pgs. 345
List of Illustrations —Pgs. 723
Index of proper names & books —Pgs. 725
Table of Appendices —Pgs. 743
THE AUTHOR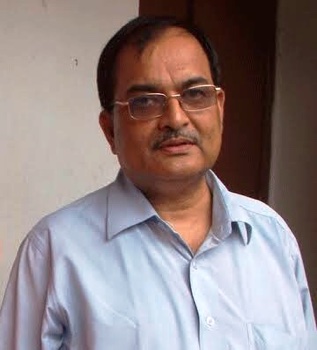 Kishore Kunal
Widely known for his splendid devotion to duty and impeccable integrity Kishore Kunal is a former I.P.S. officer who took voluntary retirement from the coveted Indian Police Service almost a decade prior to his due superannuation. During his stint in I.P.S., he held important positions which included the post of S.S.P., Patna and that of Officer-on-Special Duty on Ayodhya in the Ministry of Home Affairs, Government of India during the regime of two Prime Ministers—Vishwanath Pratap Singh and Chandra Shekhar. He was instrumental in the negotiations between the two conflicting parties for the amicable settlement of the dispute, and in this connection documents on Ayodhya were exchanged between them in the early nineties of the last century with his active initiative.
After voluntary retirement from I.P.S. in 2001, he was Vice-Chancellor of K.S.D. Sanskrit University, Darbhanga in Bihar. As an Honorary Secretary of the famous Hanuman Mandir, Patna he heralded a new era on 13th June 1993 by appointing a Dalit priest in the magnificent Mahavir (Hanuman) Mandir at Patna in presence of a galaxy of top religious leaders. During his long tenure as the President of Bihar State Board of Religious Trusts, he appointed Dalit priests in a number of temples in Bihar and sent a strong message of social equality in the most difficult arena of religion.
Kunal combined philanthropic activities with religious rituals by establishing five big hospitals through the aegis of Hanuman Mandir Trust. Its Cancer Hospital is one of the largest cancer hospitals in the country where poor patients get utmost care and substantial financial assistance from the temple trust for treatment. Its child and maternity hospital is one of the best hospitals in North India.
Kunal has been a reputed police officer, able administrator, acclaimed academician and social reformer. A diligent and assiduous student of History and Sanskrit he is an avid reader having a penchant for proof of everything which takes him into every possible detail and depth of the subject. An author of many brilliant books his magnum opus 'Dalit-Devo Bhava' demolishes many pernicious perceptions and myths concerning caste-discrimination in the Hindu society. His monumental work 'Ayodhya Revisited' has been well-received and highly appreciated by scholars and legal luminaries. Former Chief Justice of India Justice G.B. Patnaik observed in the Foreword to that book that it "would be a great asset to the nation at large, which may be helpful in defusing the tension between the two communities." In the Foreword to the present work another Former Chief Justice of India Justice M.N. Venkatachaliah has graciously blessed that 'the work of Sri Kishore Kunal may help to understand the historic background and antecedents of the dispute with a little more clarity and a little less emotive self-righteousness.'

Contact: kishorekunaal@gmail.com
This Book is available on Amazon : https://www.amazon.in/-/hi/Kishore-Kunal/dp/8184306253